Retirement Community entertainment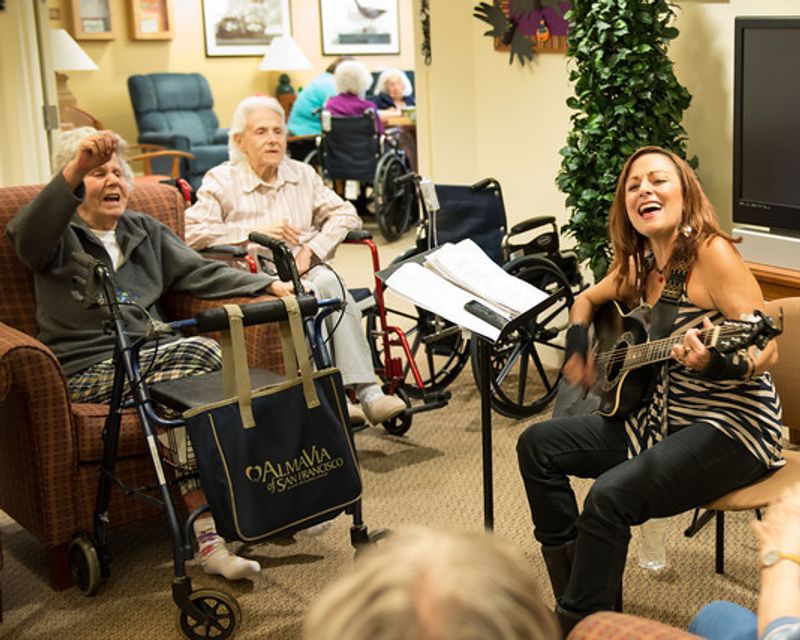 an 11 year business still growing...
Kimberlye's desire to touch the hearts and souls of others through her music led her to start her own business playing music at retirement communities, skilled nursing facilities, and hospitals for seniors and other folks in need. Here she focuses on songs from all eras that they can sing along with, with an emphasis on engaging them and creating an atmosphere of fun, joy, and connection. Kimberlye has indeed found her calling and it has become her life's work.
"

Kimberlye is a gem! She truly cares about the people she plays for, and this is evidenced in the way she relates to people and the stories she tells between songs. I have worked with a lot of performers in my time as an activity director and she is, by far, one of the best."
— Christina Nielsen | former Activity Director at Our Lady of Fatima Villa
A Touching story...
For nearly eleven years I have had the privilege and pleasure of entertaining in senior living and retirement homes, bringing the joy of music to people who may at times need a little lift in their lives. My performances are especially satisfying as I often see elderly and hurting people seemingly come alive for what may be, according to attendants or management, the first time in perhaps days or weeks. 
I engage the residents in sing-alongs, bringing back beloved tunes from days gone by and often see toes start tapping. I am always humbled and thrilled when residents approach me after shows to express their appreciation for my performances and ask me to return. 
 Recently I played a double at one of my regular monthly haunts I've been entertaining at for years…the first hour was for a section called Focused Care, the highest level of care for folks with extreme physical and memory challenges…there's a gal who's worked there for a while now named Nanette who consistently blows me away by how invested she is in getting these folks motivated and the joy and delight she takes in doing it…it's one of the only places like this where I've seen some folks actually improve instead of decline over time…and it never ceases to be a miracle for me to be the musical catalyst to witness it… 
 This day a new guy named Bob arrived who I was told had been severely depressed. He looked pretty spry wearing his Virginia Tech sweatshirt and the moment I began to play, his eyes lit up like jack-o-lanterns and he joined in, belting out every tune I played with gusto, smiling like a kid and making hand gestures in time to the music, looking around the room to see who else was singing along that he could vibe with…he knew most of the lyrics to every song I chose, he got many of my music trivia questions right and I could see him concentrating to try and remember the ones he didn't. Bob had a good, strong voice and his energy was infectious…soon I had several of the more alert folks rising to the occasion, with Nanette keeping them going and filming us on her cell phone like she always does to show the activity director what we do up there… 
 After the show ended, Bob exclaimed, "That was GREAT! I feel much better now! It's the music!" Then he turned directly to me and said, "You know, depression takes you out of the game. You changed that. I'm back in the game!" 
Me too, Bob. Back in the game. Me too… 
BEST. JOB. EVER.